If you're looking for beautiful outfits that will flatter your figure this summer, you have countless options. The key is putting together clothes and accessories that draw attention to your best features, camouflage your trouble spots, and create an intentional look. If you want a little extra support, body shapers for women can help you achieve the perfect silhouette. Whatever your shape, you can stay cool and look amazing when you choose clothes that suit you. Take a look at these summer outfit ideas and get ready for warm-weather fun!
1. Belted Separates
If you're slender or have an hourglass figure, you can accentuate your silhouette by drawing attention to the smallest part of your waist. Pair a tank top or novelty T-shirt with a flowy silk skirt that hits below the knee. You can make the look fresh with a belt or sash in a contrasting color. Pull it all together with an embellished sandal and a coordinating bag.
2. Crop Top With a Midi Skirt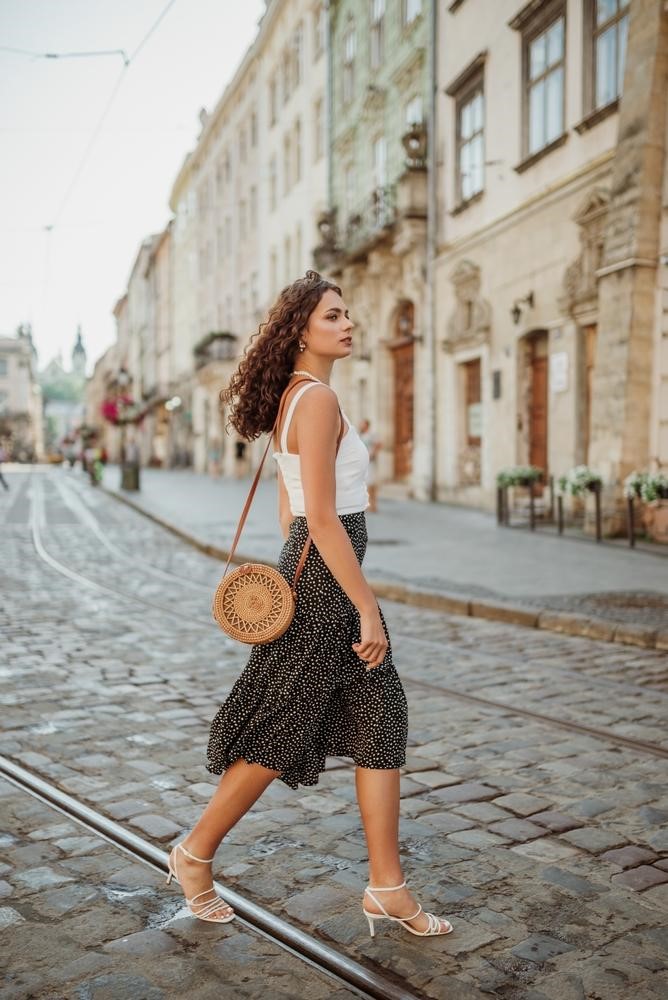 A crop top paired with a midi skirt is a scaled-down look that works well on smaller, petite frames. This combination emphasizes your waist and draws the eye up, keeping the total look long without overwhelming your figure. Wear statement heels and a clutch to keep this outfit fashion-forward.
3. Button-down Shirt Dress With Vertical Stripes
Stripes are the perfect anchor for a classic, put-together summer look. Athletic figures look incredible in a cotton shirtdress with vertical stripes. They elongate your body, and the button-down closure draws attention to your center, helping you look slimmer. Adding a belt can flatter your feminine curves, or you can go for an easy-breezy effect by wearing the dress loose. Keep your outfit minimalist with neutral sandals and a low-key tote.
4. Slip Dress in a Dark Color
A silk, cotton or linen dress that exposes your arms, decolletage, shoulders and back as it glides over your curves will keep away the heat, and the presence of color will make you look radiant. The little black dress is famous for its slimming effects, but navy, chocolate brown, and deep burgundy slip dresses can have a similar effect in the summertime. These effortless garments enhance any figure; just look for a flattering neckline. Accessorize with precious metal jewelry and dark sandals for a bold yet easygoing look.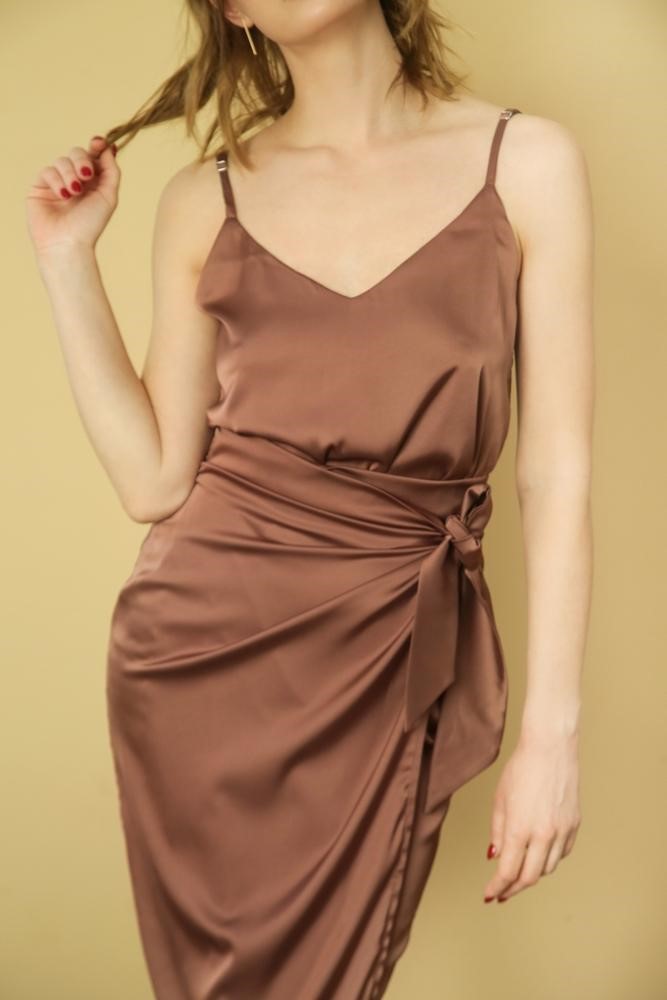 5. Figure-flattering Print Dress
If you want to enhance your curves while camouflaging your trouble spots, choose a dress with a feminine silhouette in fabric with an all-over pattern. A floral or polka-dot-printed draped or flowing dress will glide over your figure and distract the eye from any problem areas. If you have an hourglass shape, choose a dress with ruching at the waist.
Instead of an all-over print, you can look for dresses with placement prints. Choose ones with a print where the garment widens at the bottom or multiple prints more closely arranged at the midriff, torso or shoulders. Strategically mixing prints can also be a clever way to dress for your figure.
6. Cropped Jumpsuit
A short-sleeved or sleeveless jumpsuit is a figure-flattering alternative to a dress. It looks modern, put-together, and unfussy. To create an instant outfit, all you need to do is accessorize. Jumpsuits create a slim, unified look with a nipped-in waist. They look great on tall, athletic, petite and hourglass figures.
The most flattering jumpsuits this season have wide legs that hit above the ankle. Choose a neckline and sleeve length that fits your style. Halter, button-down, strapless, ruffled, and asymmetrical necklines can make your jumpsuit look sporty or femme. Wear your pick with a flat sandal or a mid- or high-heeled shoe.
7. T-shirt Dress
A T-shirt dress is great for staying cool while you show off your arms and legs. These dresses fall from your shoulders loosely over your midsection, with room at the hips. Go casual with flat slides or a pair of flat-soled, vintage-style sneakers with no-show socks. To upgrade your look, select a scoop or V-neck dress made from luxurious fabric and wear it with embellished flats or sandals.
8. Shoulder-baring Top With Pants or Skirt
Pairing a shoulder-baring top with an understated bottom is the perfect way to celebrate summertime. Exposing your neckline draws eyes to your face and makes it the star of the show. Depending on the occasion, you can choose a gathered, elastic, banded, ruffled or asymmetrical neckline. These tops can flatter any figure, whether you cover your arms with blouson sleeves or draw attention to your skin with a bow or buckle. Give your look polish with a fantastic pair of statement earrings.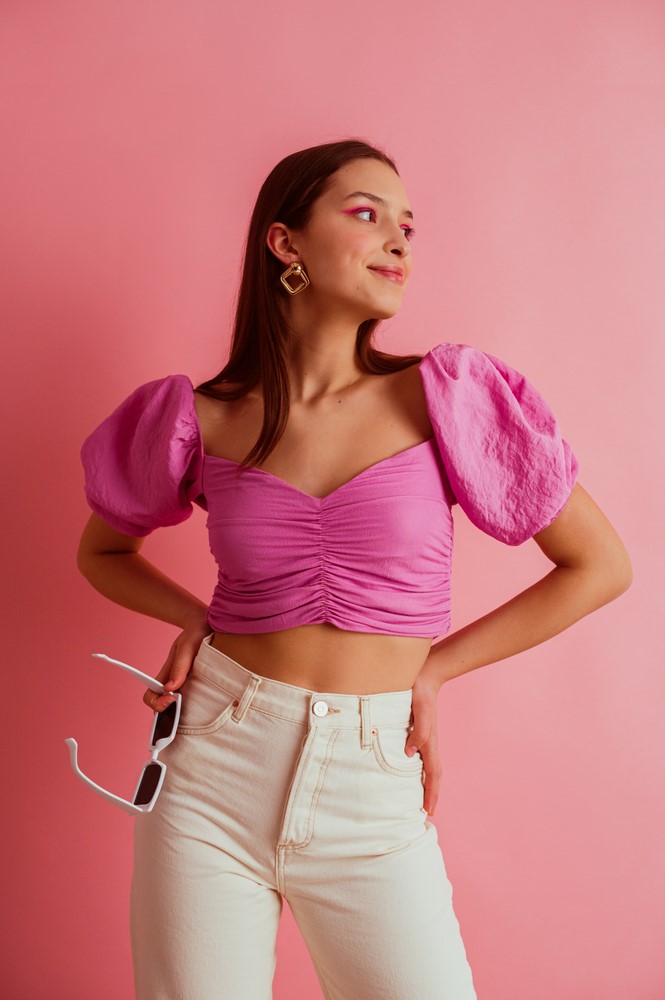 9. Sarong
With the right styling and accessories, you can make a shapewear swimsuit into gorgeous beachwear. A sarong made from luxurious fabric can double as a skirt or a dress that can hide problem hips and thighs or show off your legs. Tie the fabric to accentuate your waist, shoulders, or neckline, and let it flow over your body. For an elegant, carefree evening look, add a pair of strappy sandals or heels, a tiny clutch, and some sparkling jewelry.
10. Monochrome Two-piece Set
A monochrome two-piece set is a great way to get the look of a dress or jumpsuit while showing a hint of skin at the waist. These outfits are dressy, chic, and playful, and they look gorgeous at lunch, dinner or cocktail hour. They are perfect for adding feminine movement if you have a rectangular shape. They also look great on women with curves.
The Perfect Summer Styles for Your Shape
When it comes to summer dressing, you want to feel confident and carefree. Finding clothes that look great and keep you cool is easy when you learn what looks good on your frame. Most of all, you should dress to make yourself happy!
Also Read: How To Stop Having Dry And Chapped Lips? Natural Remedies