As you get older, some workouts that you've always done may become too hard on your joints, prompting a shift in your routine. In addition, many older adults who have never been very active before find themselves wanting to get more fit in order to stave off some physical changes. If you're over 50, here are nine low impact exercises you should definitely try out. From pelvic floor exercises to water aerobics, we cover it all below.
1. Weight Lifting
Doing strength training as you get older can help stave off muscle mass loss and help keep your bones from becoming brittle. If you have access to a gym, or a well-supplied home gym, then lifting weight is an excellent way to get in your strength training. Start off with smaller weights and fewer repetitions and then work your way up as you get stronger. If you're new to weight lifting, consider booking a few sessions with a personal trainer so that you learn how to perform the exercises with proper form, which reduces the risk of accidental strain.
2. Resistance Bands
If lifting weights isn't your thing, then you can still get in your strength training through resistance bands, which are essentially giant rubber bands that you step on or attach to a door anchor to create resistance. They are very affordable to buy and take up very little space, making them perfect for older adults who are working out on a budget or who are constantly on the go. Resistance bands can also be a good stepping stone to lifting weights if you're trying to work your way up.
3. Walking and Jogging
Running may not agree with your body due to its high impact nature (not only is it hard on your joints, peeing while running is also totally a thing). However, walking is a fantastic, low impact way to get in some physical activity that only requires a sturdy pair of shoes. If you feel up to it, you can also incorporate light jogging intervals to get your heart rate up. If you're new to physical fitness and want something with a low barrier to entry, you really can't go wrong with walking.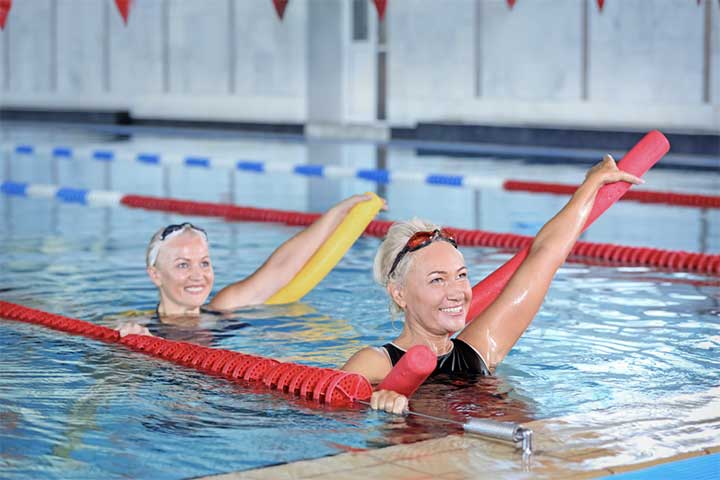 4. Swimming and Water Aerobics
Both of these options are low impact cardio activities that will burn serious calories while taking it easy on your joints. Many older adults over 50 struggle with joint pain, taking high impact cardio exercises such as running off the table. When swimming or taking a water aerobics class, the water cushions your joints and buoys your body, allowing you to get in a good workout without stressing your joints. In fact, many gyms and pools offer exercise classes tailored to older adults for this very reason!
5. Cycling
Another low impact cardio option is cycling. Taking your bike for a ride on a local trail is an excellent way to spend time in nature while getting your fitness in. If you're a bit wobbly on a regular bike, then consider trying out a stationary bike, either through a fitness class or solo at the gym. Some of the newer bikes even come with a digital screen that allows you to pedal through virtual trails, simulating an outdoor bike ride.
6. Yoga
There are many different styles of yoga, meaning that there's almost certainly a type of yoga out there that's perfect for you. Some are focused more on building your stamina and holding poses for long periods of time, while others work your cardiovascular system by leading you through a quick-moving flow. Due to its low impact nature and relative lack of equipment, yoga is another type of exercise that's easy for beginners to get into. Seek out a class tailored to older adults if you're new to yoga and looking for expert instruction.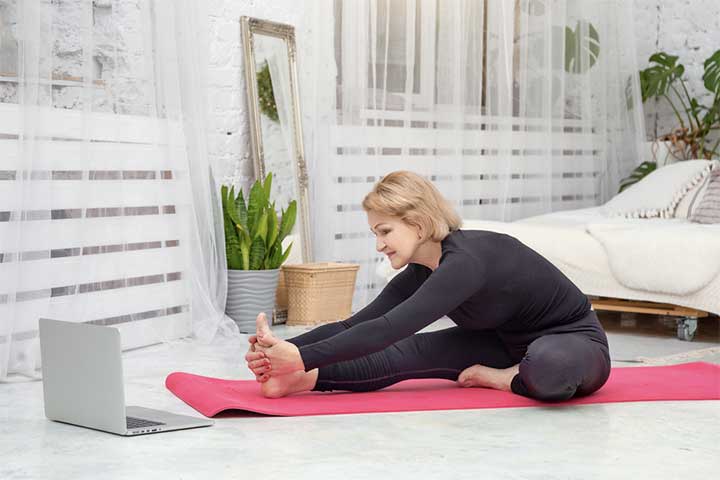 7. Pilates
Pilates is a low impact way to build your strength and especially focuses on the core. Pilates can take many forms, from simple matwork to using a more involved Pilates machine. Many women over 50 are drawn to Pilates, thanks to its ability to deliver a hard workout without taxing their joints too much. If you've never tried Pilates before, then should definitely consider taking a class to see if you enjoy it!
8. Core Work and Pelvic Floor Exercises
Having a strong core provides multiple benefits: it keeps your spine aligned, protects your back while lifting objects, and makes it easier to go about your daily life. Incorporating core exercises such as planks and crunches into your regular exercise routine will help your core stay strong as you age. You might also want to incorporate pelvic floor exercises such as Kegels. Many women find that their pelvic floor muscles stretch out as they age, leading to incontinence, painful sex, and other problems. Targeting that area through pelvic floor exercises can help tighten it back up and help you regain some of your former functionality.
9. Stretching
Once you've worked all your muscles, you need to stretch them out so they don't get all stiff. Stretching before and after your workouts will help get you warmed up and keep your body limber. You might also enjoy doing more in-depth stretching routines on your off days to work out any remaining stiffness and get your blood flowing gently. Many people find their bodies become more stiff in their 50s and beyond, but regular stretching can help you maintain or improve flexibility as you age.
Exercise can improve your balance, reduce your likelihood of falls, keep you flexible, make your heart strong, provide menopause relief, and more. Try out one or more of these exercises if you're a woman over 50 looking to do something new. You never know when you might discover your new favorite workout!